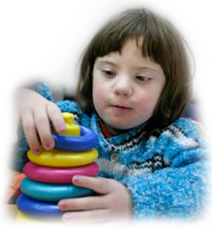 The Brighter Tomorrow Foundation (BTF) represents the vision of its board members and supporters to improve the lives of individuals and families in Montgomery County (Ohio) who are touched by developmental disabilities. Members and supporters of BTF have in common their dedication to addressing the needs of this special population especially in areas of housing, day-to-day quality of life, education, and recreation.

The Brighter Tomorrow Foundation serves children and adults with developmental disabilities and their families. Developmental disabilities are a diverse group of severe chronic conditions that are due to mental and/or physical impairments. People with developmental disabilities have problems with major life activities such as language, mobility, learning, self-help, and independent living.
Developmental disabilities may occur anytime during development up to 22 years of age and usually last throughout a person's lifetime. Some commonly known conditions which fall into the category of developmental disabilities include mental retardation, cerebral palsy, autism spectrum disorders, epilepsy, Tourette Syndrome, and spina bifida.

The Brighter Tomorrow Foundation seeks to improve the quality of life of individuals and families with developmental disabilities through a competitive grant process. This goal supports Montgomery County's efforts to address quality of life issues including employment, education, health status and health care, financial status and security, leisure and recreation, personal relationships, and crime and safety. Read more.